Free Grace is a Presbyterian church. This means that we believe Scripture has instituted two offices for the leadership of the church: elders and deacons. The elders are men that God has called to govern and provide spiritual oversight of the church under Jesus Christ its head. Scripture describes this as shepherding. The deacons are men who are called to serve the physical and spiritual needs of the people of the church with the elders. Under these officers the church is served by her staff – men and women that God has called and trained to serve his church. To contact any of the officers, contact the church office and we will be happy to connect you.
Our Elders
Per Almquist
Brian Cosgrove
Ken Morris
Ben Van Dyke
Our Staff
PASTOR
Per & Beth Almquist
Kyle, Jason, Scotty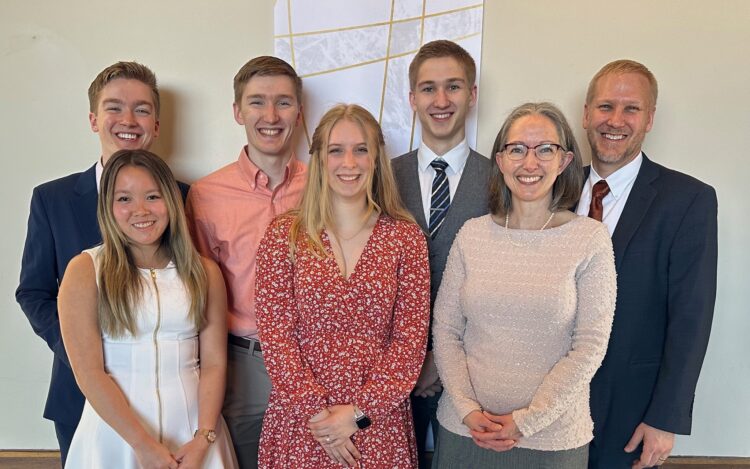 An avid sports fan, Per (pronounced "Pear") believes that the pleasure of playing and watching sports is one sure sign that God exists. Per is a military brat who grew up all over the US, while his wife, Beth, is a native New Englander. Both greatly enjoy even the harsher aspects of Maine's weather – though their three boys enjoy the snow even more than Mom and Dad do. Beth is a librarian and music teacher, who enjoys her music and stories.
Per has studied at the Johns Hopkins University, Covenant Theological Seminary, the University of Missouri, and Reformed Theological Seminary. Beth has degrees from Johns Hopkins and Covenant Theological Seminary.
They moved to Maine in early 2005 after serving at Covenant Theological Seminary for a number of years. They were called to Maine to serve at Christ the Redeemer Presbyterian Church in Portland in order to prepare themselves and the church for planting a second church in Maine. They moved farther north away from the rest of the country to Lewiston in the fall of 2007 to see God take the next steps in making his kingdom more visible in Maine.
DIRECTOR OF COUNSELING & CHURCH OFFICE MANAGER
Ken & Linda Morris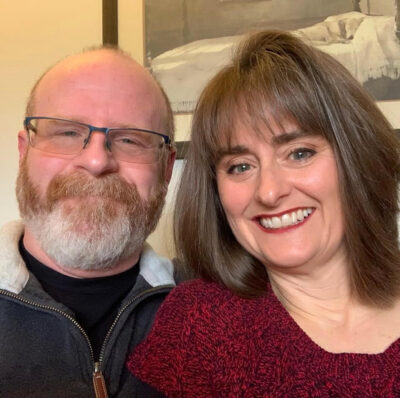 When Ken and Linda moved to St. Louis from their home in California, friends and family said they would surely freeze to death. Who knows what they'll say now. Fortunately, Ken and Linda love camping, canoeing and hiking in all sorts of weather, and they enjoy exploring the beautiful landscape of Maine.
Ken grew up playing soccer and is a sports nut in general. He loves going to the movies, woodworking, and good conversations on the front porch. He also helps Linda train their dogs.
God has given Linda a passion for dogs. She believes the way dogs love people is a small taste of God's unconditional love toward his people. She hopes to bring the love of God to our community through dogs and dog training. Linda also enjoys reading and gardening, especially when it comes to flowers.
2023Ken holds a Master of Arts in Counseling and a Master of Arts in General Theological Studies from Covenant Theological Seminary. He is a Licensed Professional Counselor in Missouri and a member of the American Association of Christian Counselors.